Welcome Yarn Lovers!
We have moved to a new location at the Fry's Shopping Center in Cottonwood, AZ:

1100 St Rt 260, Suite 19
Cottonwood, AZ 86326
Sedona Knit Wits is a full-service yarn shop nestled in the red rocks area of Sedona, in Cottonwood, one of the most beautiful places on earth. We love knitting and crochet, and love helping customers find just the right project and yarn for themselves.
Besides a large selection of cottons, wools, silks, linens and other beautiful commercial yarns, we specialize in yarns dyed right here in Sedona's back yard. Our locally-dyed yarns–in merino wool, rayon, cotton and bamboo–are delightful to work with, and are practical and beautiful souvenirs of Sedona.
Sedona Knit Wits has been supplying knitters and crocheters for many years. In July 2023, Sedona Knit Wits moved to its current location in the Fry's shopping Center in Cottonwood. The store is owned by Linda Kimberly.
We have a new email address: sedonaknitwitsyarns@gmail.com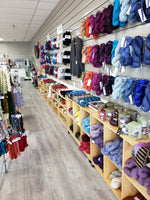 We Carry The Finest Quality Yarns In-store